----- Forwarded Message ----
From:
Levees.Org <LeveesOrg@mail.democracyinaction.com>
To:
Sent:
Wed, November 18, 2009 9:43:00 PM
Subject:
BREAKING NEWS: Federal Judge rules Corps responsible for flood damage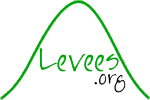 9:45pm CST November 18, 2009

Dear Denise
In a groundbreaking decision, a federal judge ruled late Wednesday that the Army Corps of Engineers' mismanagement of the Mississippi River-Gulf Outlet was directly responsible for flood damage of homes in St. Bernard Parish and the Lower 9th Ward of New Orleans after Hurricane Katrina.
Plaintiff attorneys Joe Bruno and Pierce O'Donnell said they expect to travel to Washington, D.C., as early as next week to try to convince members of the administration of President Barack Obama and members of Congress to consider revisiting requests for compensation by New Orleans-area residents in both the areas covered by the decision and in other areas flooded by corps-related failures of levees.

Click here for story on MSNBC.

http://salsa.wiredforchange.com/dia/track.jsp?v=2&c=NdZF7sL6jq7hHIo9n6Dd6IEBH3SBqnkw

Thank you for your support of Levees.org.

We are winning!

Sandy Rosenthal
Founder, Levees.org



New York Chapter
bhschaffer@levees.org

California Chapter
kc.costa@levees.org

Florida Chapter
DrLevine@levees.org

Illinois Chapter
derbes@levees.org

Oregon Chapter
Oregon@levees.org

Launching soon: Chapter in Connecticut


Follow us on Twitter! http://salsa.wiredforchange.com/dia/track.jsp?v=2&c=%2FDqgUAyM5lYlYdiLYbjFlIEBH3SBqnkw
Remove yourself from our list.